Registrations have closed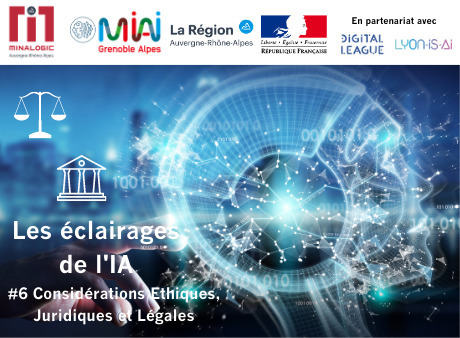 Regulating Artificial Intelligence? Why? How can we do it? Ethical, Legal and Statutory Considerations
2018
2018 people viewed this event.
What use for an ethical approach of AI?
Philippe Wieczorek, R&D and Innovation Director, Minalogic
Thierry Ménissier, Professor at the University of Grenoble Alpes, member of the Grenoble Institute of Philosophy, head of the "Ethics & AI" chair. Specialized in political philosophy and public ethics, his interests are innovation and its social, moral and political consequences, and the meaning of technical systems for democratic societies.
Théodore Christakis, Professor of International and European Law at the University of Grenoble Alpes, holder of the Legal and Regulatory Implications of Artificial Intelligence Chair at MIAI Grenoble Alpes, Research Director for Europe of the Cross-Border Data Forum, member of the National Pilot Committee on Digital Ethics and former member of the National Digital Council.
Many statements and proposals seem to highlight the importance, even necessity, of ethics in the development of AI. What form of ethics are we talking about? In reality, nothing is less clear than the nature of the contribution of ethics to AI, especially when seen from the point of view of its technological and commercial stakes (apart from uses).
The regulation of artificial intelligence is a priority for the European Commission. While many rules (including the General Data Protection Regulation – GDPR) already apply to AI, the Commission is expected to announce new legislative instruments in April 2021.
Why regulate AI? What are the priorities? How to provide the necessary protections without hampering innovation?
This webinar will provide an overview of the topic and address these questions to clarify the type of ethics that can be useful and relevant in the development of AI.
It will also be an opportunity to present some of the research conducted within the MIAI AI-Regulation Chair.