During the Department of Defense Press Briefing on the Adoption of Ethical Principles for Artificial Intelligence which took place on February 24th, 2020, the DOD Chief Information Officer, Dana Deasy, reminded that in 2018 the DoD issued the National Defense Strategy. The latter stated that the DoD intended to accelerate the adoption of artificial intelligence in order to ensure and extend American competitive military advantage. 
As AI is DoD's number one technology modernization priority, the department's A.I. strategy asked the Defense Innovation Board (DIB) to propose A.I. ethical principles for the Department of Defense. The DIB conducted a comprehensive and robust fifteen-month study that included consultation with many leading A.I. and technical experts, current and former DOD leaders and the American public. 
The five AI ethical principles, based on recommendations from the Defense Innovation Boards are: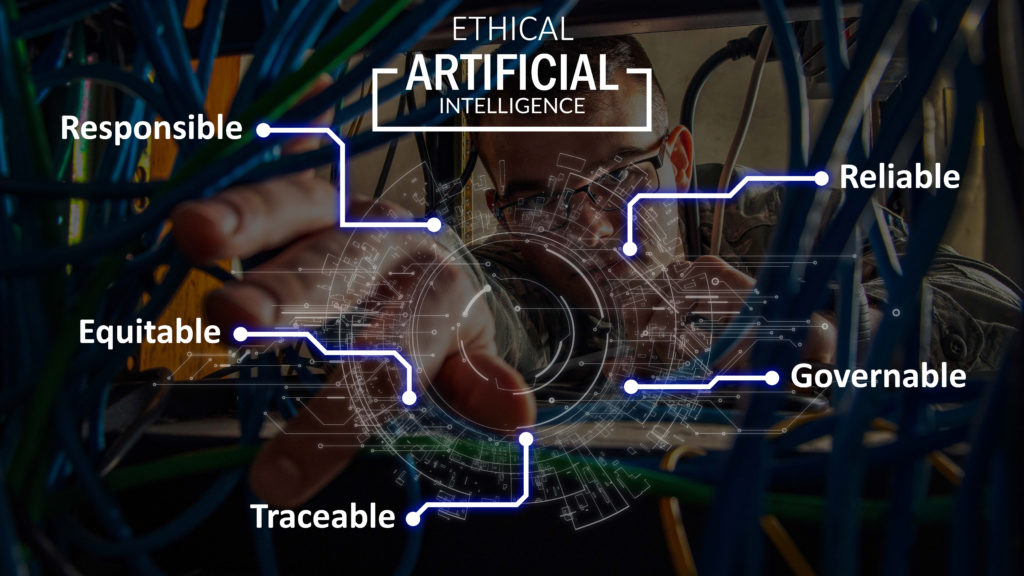 5 Principles of AI Ethics Photo by: DOD Graphic 

VIRIN: 200225-D-ZZ999-001
According to Deasy, these five principles will each apply to both combat and non-combat A.I. technologies used by the department. 
Besides their ethical aspects, their adoption underlines DOD's strategical interests to elaborate and coordinate ethical AI principles with European allies, especially for countering Chinese or Russian threats.
''This runs in stark contrast to Russia and China, whose use of A.I. technology for military purposes raises serious concerns about human rights, ethics, and international norms. Conversely, the U.S. system of democratic values and transparency, which led us to the development of the DOD's A.I. ethics principles, provides a framework for likeminded nations to follow as they look to develop their own A.I. principles.''


Air Force Lieutenant General, Jack Shanahan, director of the Joint Artificial Intelligence Center, Department Of Defense Press Briefing on the Adoption of Ethical Principles for Artificial Intelligence
Jack Shanahan explained he was in Brussels, in January 2020, meeting with NATO and European Union counterparts in order to discuss the prospects for AI partnerships. He stated these conversations revealed that American allies and partners in Europe ''have much in common regarding principles related to the ethical and safe use of AI-enabled capabilities in military operations''.
This cooperation was also mentioned and supported by Michael Kratsios, the White House's Chief Technology Officer. If US wants  to ''advance AI innovation based on American values'' and contrast with authoritarian governments ''that deploy technology that undermines individual liberty and basic human rights'' (such as monitoring and sending to prison dissidents, activists and minorities). This 'dystopian approach' of safe use of AI should be tackled by an US-European cooperation:
"The best way to counter this dystopian approach is to make sure America and our allies remain the top global hubs of AI innovation. Europe and our other international partners should adopt similar regulatory principles that embrace and shape innovation and do so in a manner consistent with the principles we all hold dear."
Quotation from Michael Kratsios, the White House's chief technology officer, 'AI That Reflects American Values', Bloomberg Opinion